About Us
YKY Bus Service (YKY) is a transport company with over 40 years of experience providing tailored solutions to schools, businesses and private hires.
Schools/Colleges/Universities
We currently run over 50 school buses for international and private institutions in the Klang Valley.
Safe buses: We use buses that are legally permitted with full license, permits and insurance. All vehicles are under 12 years of age, have air con, individual seats and seat belts and are sent for full inspection every 6 months.
Reliable drivers: We employ qualified drivers with the appropriate license and PSV categories. Our drivers undergo pre-employment background checks, are first aid certified and undergo regular safeguarding training.
Great service: We have standby buses for emergencies and guarantee buses turn up or your money is refunded. Parents have confidence knowing that a safe and reliable bus will show up everyday. Our service includes Bus Buddy- a one stop platform for all bus matters.
Committed to excellence: We value feedback and take complaints seriously. We are constantly improving safety measures, bus routes and overall services for the benefit of all stakeholders. Part of this commitment is to refund any bus fees paid when school is closed for online learning.
Bus Buddy
Bus Buddy is a web-based application that we have developed for schools. Parents use Bus Buddy to view bus timetables, track live location of the bus, get live emergency updates and make daily changes relating to their child's bus arrangements. School's staff use Bus Buddy to book buses for school trips, view bus student records, attendance and other important information on their school's bus service and operation for safeguarding purposes.
Bus Buddy provides parents, the school and YKY a seamless, centralised and data-accurate approach to transport management.
Our Covid Measures

Businesses/private hires
Whether you are a small, medium or large organisation, requiring transport for short term, long term or even once off hire, we are able to provide transport services that cater to your specific needs.
Our services include:
Quality tour or school buses from a range of brand new to under 12 year old buses that are well maintained, licensed and permitted to carry passengers

Interstate or cross border (Thailand/Singapore) tour buses

Standby buses for any emergencies

Guaranteed bus turn up or refund policy applies

Driver misbehaviour or complaints taken seriously

One point of contact for all transport matters

Route and logistics planning for your company

Drivers that are professional, trained and possess excellent route knowledge
Why Us?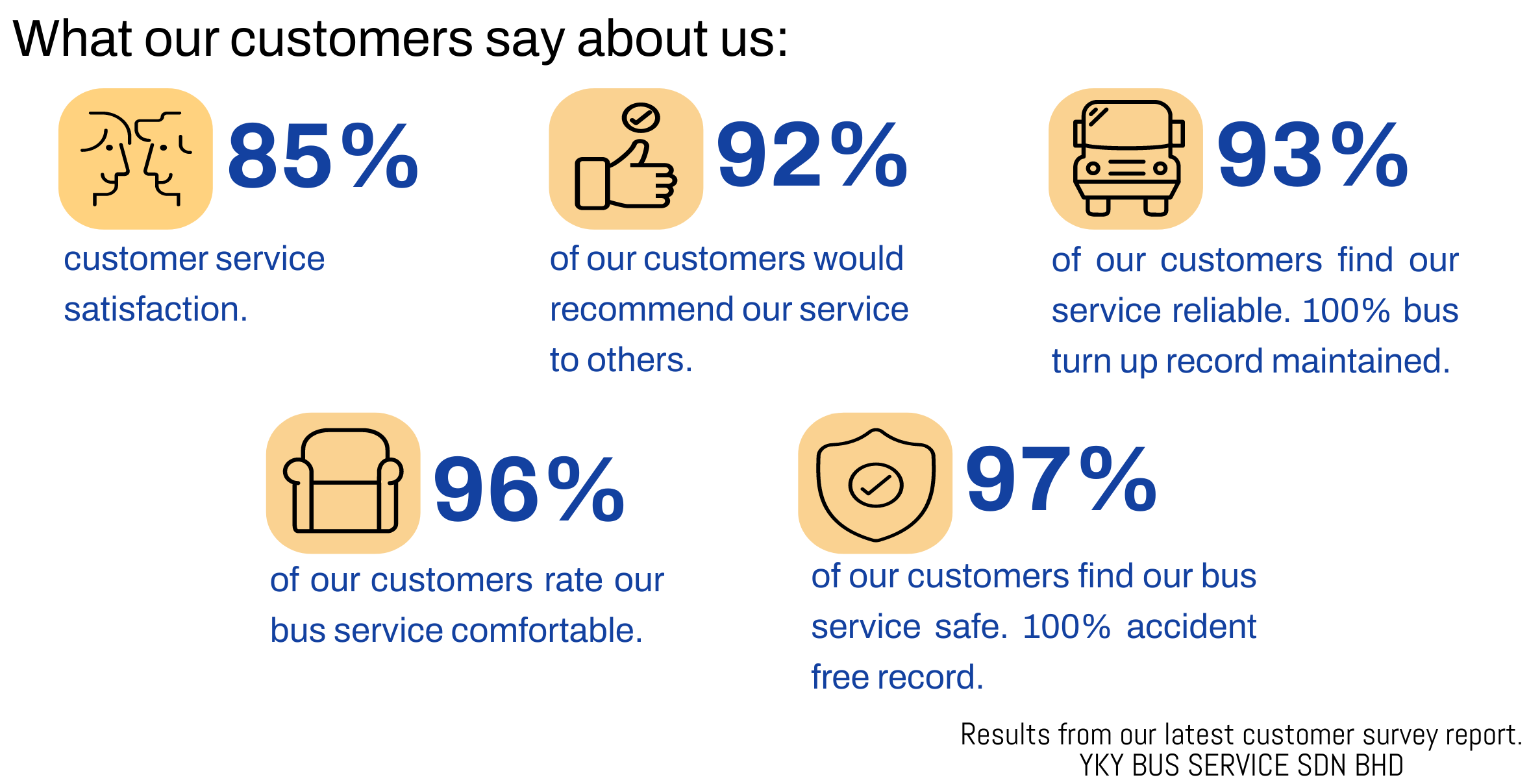 Our solutions are tailored to your school, business or individual needs. We also believe in a working partnership and see our clients as more than a mere business transaction. Therefore, you can be assured of our willingness to work together to problem solve, improve and provide great service for the long term.
Safety, reliability and an excellent end-to-end service experience are our priorities. We operate fully licensed and legally permitted vehicles, employing qualified drivers with the relevant licenses only. All passengers are covered under third party insurance.
Bus Buddy is designed for the safety, convenience and service experience of all stakeholders. It makes it easy to track your child's bus, update details and receive live emergency notices. The daily bus attendance and student data record is an important safeguarding measure for the school and Bus Buddy makes this process possible.
In all our years of service, we have maintained a 100% bus turn-up and accident free record. This is something we strive and work hard to maintain.
For a tailored solution for your school, business or private hire, please contact Samuel Yee at [email protected] or 012-787 7724 for enquiries or to request for a detailed prospectus.
Click here to return to homepage